BLT Tortellini Salad Recipe #15MinSuppers
BLT Tortellini Salad Recipe #15MinSuppers
This 15 Minute Supper will take just a smidge of preplanning. You will need to have precooked chicken. You could use rotisserie from the store deli, canned or even have it prepared a head of time. I cook off a lot of chicken breast and freeze it in meal size packages, so I have it on hand. Make sure you scroll all the way to the bottom for more great recipes from some awesome bloggers!

BLT Tortellini Salad Recipe #15MinSuppers
Ingredients
1 package (8¾ ounce size) three cheese tortellini, uncooked
2 cups fully cooked chopped chicken breast
1 cup grape tomatoes, sliced lengthwise or 1 whole tomato sliced
½ cup sharp Cheddar cheese, shredded
4 slices cooked bacon, chopped
¾ cup light ranch salad dressing
¼ cup Light Italian salad dressing
Green leafy lettuce chopped into bite size pieces( I use spinach, too)
Instructions
Cook pasta according to the directions on the package and then drain.
In a large bowl lightly toss cooked pasta with the remaining ingredients.
Can be served hot or cold.
Enjoy!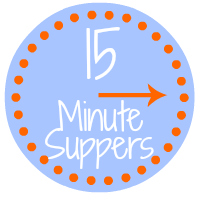 It's Friday, so it's time for another 15 Minute Suppers full of great recipes. Sharing these easy and delicious recipe ideas with you can help you get a meal on your table in less time than you could get take out or order a pizza. Pin them and start next weeks meal plan, so your you always know what's for dinner!
Follow 15 Minute Suppers on Facebook | Twitter | Instagram | Pinterest
and look for the #15MinuteSuppers hashtag too
You have to check out these delicious 15 Minute Suppers: 
Chicken & Waffle Sandwiches from Around My Family Table
Easy Skillet Lasagna from How To This And That
Sun Dried Tomato & Chicken Alfredo from Lizzie Jane Baby
Best-ever Baked Chicken Nuggets from Better in Bulk
Paleo Coconut Fish Soup Recipe from Confessions of an Overworked Mom
15 Minute Chicken Fajita Recipe from Sunshine and Sippy Cups
Ham and Cheese Pasta with Vegetables from Suburbia Unwrapped


If you are a blogger and you'd like more info, please check out the 15 Minute Suppers website or ask to join the Facebook group to participate on Fridays…we'd love to have you join us.